Which solutions to create a marketplace?
First of all, a marketplace is a platform that puts suppliers and buyers in contact with each other (matchmaking site, collaborative platform, multi-boutique ecommerce, ad site, etc.). It must be composed of several modules to be complete. The main modules must allow you to:
Set up the characteristics of offers (products, services, etc.) such as categories, variants, attributes, etc.
Manage the offers: creation, modification, deletion, highlighting…
Display offers with a navigation adapted to the search (filters by categories, specificities…)
Manage the different types of users: suppliers, applicants or users who can be both, an administrator or other types depending on the project
Manage the purchasing process where appropriate
Some of the solutions listed below only handle some of these elements.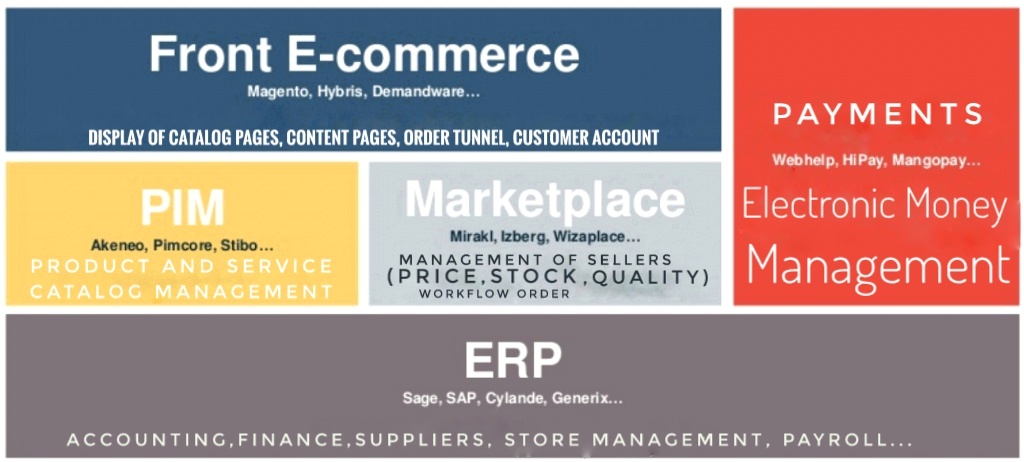 There are several services who offer marketplace creation in SAAS mode or by integrating modules via APIs. Among the best known and the first to have launched into this niche are Mirakl, Izberg, Wizaplace and Sharetribe. Each of these solutions does not target the same audience.
Mirakl and Izberg to integrate with your existing site
In France, Mirakl is intended for big e-merchants, including Auchan, Rue du Commerce, Darty, Conforama, etc. It's a very expensive solution (between 100,000€ and 500,000€ for integration costs excluding license fees) which focuses on vendor management and the creation of offers. It assumes that you already have in-house expertise in certain areas, such as the front-end for displaying offers or managing stocks. It is integrated into an existing ecommerce site, whether it is a custom site or one based on a CMS such as Magento for example.
Izberg, like Mirakl, targets ecommerce sites to integrate its modules. The functionalities they offer are however wider. For example the transactional part (purchase process) is available. However, Izberg only manages the backend, the frontend being left to the client who must therefore manage this part internally or subcontract this development to another provider. As far as prices are concerned, which are not communicated on their website, there are integration fees and a monthly user license, the amount of which varies according to the modules used.
SAAS Solutions
Wizaplace
The Wizaplace solution is more complete, it offers many modules including front-end management. There is therefore no need for an external ecommerce CMS. This solution seems to be more adapted to obtain a complete marketplace without using other providers or without having to use other services to fill the gaps. In terms of price, Wizaplace proposed a standard offer at 2990€/month with an additional installation fee of 10000€ and a customizable theme for the front-end. It is possible that the price varies depending on specific developments… The subscription price has apparently increased recently but there are no details on their website.
Sharetribe
For all the previous solutions, it usually takes a few months to launch your marketplace. With Sharetribe you can set up your marketplace in less than a day. There are 4 offers with prices ranging from $79 to $239 per month if you pay for 6 months (otherwise from $99 to $299 per month with monthly payment). The offers vary according to the maximum number of users registered on the site (to buy or sell something for example). Note that on the first offer you cannot use your own domain name or email address to send transactional emails.
Sharetribe is a good solution to test the feasibility of your project, to launch an MVP for example, but in the long term it will be limited in terms of features and especially customization. Moreover, if you want a personalized homepage (in terms of design) you have to pay 99$ more per month…
Umiddle
Running a successful marketplace involves intricate and detailed management. With Umiddle SaaS solution, the power back will be in the users hands. The features are designed to give the control over every aspect of the marketplace, from user interfaces to product spaces, shopping carts, and even commission management. Each tool is crafted to simplify the administrative process and provide the user with the flexibility to shape his plateforme exactly the way he imagine it. Keep in minde that Umiddle stands out for having the most competitive prices in the world. The price-performance ratio is among the best on the market.
Using an ecommerce CMS?
The most popular ecommerce CMS (Prestashop, Magento, WordPress with WooCommerce…) generally provide plugins to manage multi-boutique or generally to switch your site to marketplace mode. We will not go into detail about each of these solutions. You should know that some are paid, others are free and are not all equal in terms of complexity of installation. You will probably need some technical skills to successfully implement the whole site and then put it into production. Furthermore, the complexity of a marketplace platform makes it difficult to implement it fully with just one plugin, and if one plugin is not enough, the interaction between several plugins can make the platform unstable (especially when a plugin needs to be updated). Not to mention that you need to choose a well adapted theme.
In fact we find the disadvantages of CMS that are not specific to marketplace projects. CMS are not suitable for large projects or projects that require a lot of customisation with very specific features. To obtain good performance, optimize referencing, facilitate maintenance and upgrades, and avoid security problems, it is better to go for a tailor-made approach.
Tailor-made
All successful business marketplaces such as Airbnb, Etsy, Amazon, Blablacar… are of course based on custom development. You can build a custom marketplace in-house with your own developers or you can hire an agency.
Build a team
You can hire developers in your team, but don't forget about one person, be it a developer or someone else, who can specify and manage the whole project. The success of the design depends on more than just the ability to code well. Note that you will eventually need a designer, although to start with you can work with very good templates which will do the trick.
The main drawback here is that you will have to pay these people. If you don't have the means at the beginning, you can certainly offer them to join you by giving them shares in your company, but there is another difficulty: finding the right partners. It is already not easy to hire the right people, but it is even more complicated to find the right partners.
A web agency with the right know-how
It can therefore be complicated to put together a competent team, which is why it is important to turn to an agency that can carry out the specification work, development, design, but also the launch and follow-up after the launch (maintenance, upgrades, etc.).
Medialem web agency specializing in marketplace design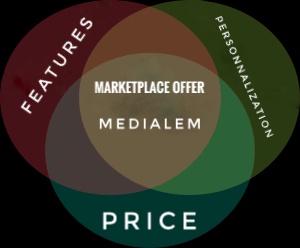 The Medialem's goal is to build marketplaces with a flexible architecture and a unique design that best meets the needs of each project. This will make it easier to evolve the platform over time, to work on the user experience, to optimize the conversion rate, to improve the referencing, to do A-B testing, to add new features… After the launch, in addition to maintenance and evolutions, we can accompany the client on more webmarketing and growth hacking aspects.
Some modules are similar from one project to another but each project is different in its entirety. We can reuse bricks and our experience to minimize costs. In terms of price we are looking at around €6000 – 7000€ for a custom made marketplace with no additional costs other than the hosting fees of course.
Conclusion
The best solution depends on your needs, your requirements and your means. You can test an idea by launching with solutions like Sharetribe or decide to go directly to a more durable custom solution, especially if it is not too expensive.
The choice of the technical solution is important for the success of your project but don't forget that the success of your project does not depend only on this choice, hence this last piece of advice: whatever solution you choose, never launch alone and try to build a team with complementary skills while respecting this fundamental triplet to succeed in your business: technical – marketing – commercial.